As Hulk is my favourite hero, I thought I would post up a few of the takes I've made of the big green machine.
To start, a "classic" Hulk, or default Hulk. He's a big green monster who turns into Banner. The kind of thing that heroes have to work together to stop, and villains attempt to work around. Included are a PC version and a Watcher version (for those Hulk rampage stories).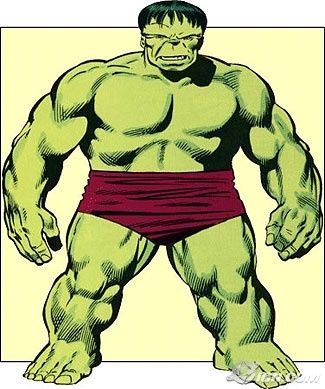 The Incredible Hulk
Affiliations:
Solo d10 Buddy d8 Team d6
Distinctions:
Hulk is Strongest!, Puny Banner, Savage Cunning
Power Sets:
Gamma Mutation
Godlike Durability
d12
Enhanced Leaping
d8
Mental Resistance
d6
Astral Senses
d6
Godlike Stamina
d12
Godlike Strength
d12
SFX: Thunderclap Hands:
Add a d6 and keep an additional effect die for each additional target.
SFX: Berserk Rage:
Add a die from the doom pool to one or more attack actions. Step up the doom pool die by +1 for each action; return it to the doom pool when you're done.
SFX: Puny Humans!:
Spend 1 PP to ignore Physical Stress or Physical Trauma; step up a die in the doom pool each time this is used.
SFX: Don't Make Him Angry:
Before you make an action including a Gamma Mutation power, you may move your Emotional Stress die to the doom pool and step up the Gamma Mutation power by +1 for this action.
Limit: Bruce Banner:
Shutdown Gamma Mutation to gain 1 PP. Recover by activating an opportunity or during a Transition scene. Note that Hulk and Banner do not share Specialties.
Limit: Growing Dread:
Both 1 and 2 on your dice count as opportunities when using a Gamma Mutation power, though 2s are not removed like 1s.
Specialities:
Banner:
Medical Expert, Science Master, Tech Expert
Hulk:
Combat Expert, Menace Expert
Milestones:
Hulk, America's Most Wanted...
1 xp when you are hunted by the police or authorities in a scene, whether you deserve it or not.
3 xp when the villains take advantage of the Hulk's notoriety to either make an escape or pit the authorities against the Hulk.
10 xp when you either make peace with the authorities for good or destroy an entire arm of the people hunting you (ie: crush the Hulkbusters for good, level all the police stations in town...)
Don't Make Me Angry... You Wouldn't Like Me When I'm Angry
1 xp when you turn into Banner in the middle of a situation the Hulk aught to be handling.
3 xp when you solve a situation as Banner rather than the Hulk.
10 xp when you have to turn aside a cure for the Hulk because someone needs the green monster or you are about to be cured and the villains prevent it to keep the Hulk in existence.
Edit: Altered the Growing Dread like Limit to reflect recent suggested revisions to that Limit.